Enjoy a Harz Mountain break with your dog in Wolfshagen
At Sonnenhotel Wolfshotel in Wolfshagen-im-Harz, both you and your four-legged friend can look forward to a warm welcome. We are confident that your dog will enjoy his time in the Harz Mountains just as much as you do! Discover the Harz region! Thanks to the hotel's central location, the best destinations and Harz experiences are within easy reach. Whether you are alone, in a couple or with the family, we here at Sonnenhotel Wolfshof will ensure that your holiday in the Harz Mountains is a memorable one.
Take a virtual tour of your (and your dog's) home from home!
Experience the Harz region
The magical world of the Harz Mountains is right on our doorstep. Immerse yourself in the great outdoors on long hikes or mountain bike tours between the Grane Dam and the Innerste Dam. The mountain wilderness of the Harz National Park is ripe for exploration with its information signs, viewpoints and guided tours with the ranger. The world heritage site of Goslar is just a few kilometres away. More than 1,000 years of history are waiting to be discovered.
Goslar – UNESCO world heritage site
Harz National Park
Lautenthals Glück historic mine
Thousands of kilometres of walking paths and mountain bike trails
Golf course in Bad Harzburg
Winter sports (cross-country skiing on site, Alpine skiing in Hahnenklee)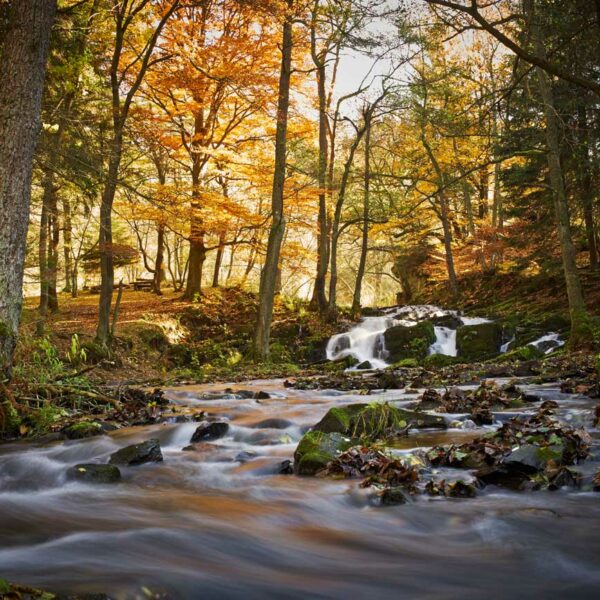 Time with the dog
Not without my dog! Dog owners know all too well the challenges of finding a suitable holiday destination. Our hosts at Sonnenhotel Wolfshotel are dog owners themselves and are looking forward to welcoming you and your four-legged friend. Your dog is our guest! The hiking trails and walking routes start directly on our doorstep – perfect for a holiday with your dog in the Harz Mountains.
Pets allowed
Walking routes right on the doorstep of the hotel
Hiking in the Harz Mountains
Follow in the footsteps of the famous Steinway piano-making family on the Steinway trail or take the Försterstieg nature trail directly from the hotel. Hikers will find a variety of hiking paths in and around Wolfshagen that will take them up into the mountains, through picture-perfect valleys and peaceful landscapes. The Harz region also boasts the hiking stamp scheme ʻHarzer Wandernadel', where particularly enthusiastic hikers can earn a Harz Mountain hiking badge. Start planning your hiking adventure today!
Steinway trail (15km, Wolfshagen – Seesen)
Försterstieg (60 km, Goslar – Riefensbeek-Kamschlacken)
Harz hiking badge with over 222 stamp locations in the Harz region
Hiking on the Brocken mountain, Hiking in Harz National Park
Wellness at Wolfshof
With a large swimming pool, a Finnish sauna and our own on-site beauty and wellness rooms, unwinding won't be a problem. Swim a few lengths in the morning and then recharge your batteries in the sauna in the evening after a long hike. We offer a wide range of aromatherapy massages and soothing massages, relaxing baths, and beauty treatments to help you look radiant and beautiful.
Swimming pool in main building (6 x 10m)
Finnish sauna in lodge
Beauty and wellness rooms in lodge
Part and full body massages, foot reflexology, hot stone massages
Rose blossom, orange blossom or beer baths
Facial treatments, anti-ageing treatments, special treatments
Rooms, suites and apartments for all requirements and with fantastic views.
Thanks to its beautiful location, Sonnenhotel Wolfshof can offer its guests unparalleled peace and quiet. We have a variety of accommodation types to suit your needs. Many of our rooms boast balconies with amazing views.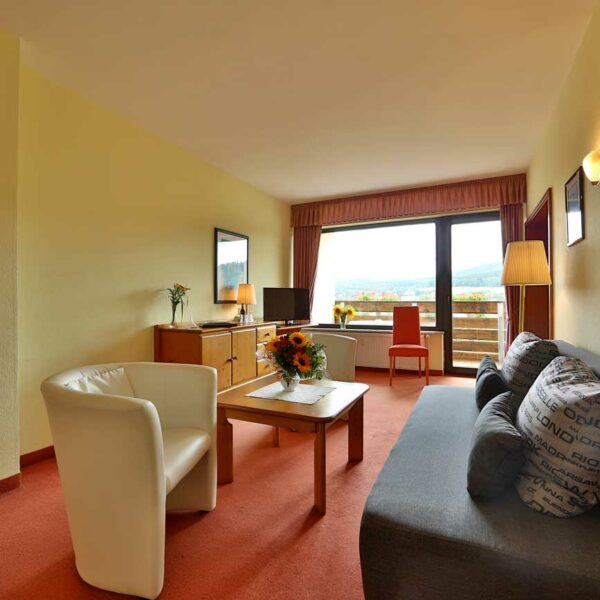 Choose from one of our well-stocked buffets or delicious à la carte options. And finish off with a drink at the bar.
Both the terrace and restaurant feature wonderful views of the green pastures as far as the forest and the Harz hills. What better way to enjoy the Harz cheese that comes with our fresh buffet? Then round off the evening with a beer or cocktail at the bar!